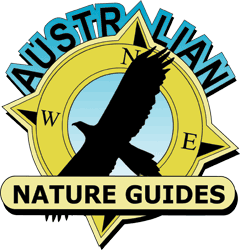 Carnarvon Gorge
See it, know it, love it!
Tour Season commences April 1st. In the interest of public health, our day tours will remain private tours for 2021. If you are the first to book on a day tour your people will be the only guests on that tour. This means that each booking gets an expert guide all to themselves, and makes social distancing much easier on our busy tracks and trails.
You've gotta be in it, to win it...
Over 80% of Australia's mammals are nocturnal, so if you want to see them you need to get out and about after dark - and we're here to help.
Gliders!
The Gorge is home to 5 of the 6 species of marsupial glider in Australia. Michelle and Simon's trained eyes and ears will give you a fantastic chance of seeing them. And with a bit of stealth, patience, and luck you might see one do its thing and glide from tree to tree.
All the gear...
A few pieces of equipment help us find the animals, and there's one piece of equipment that will help you see them up close - binoculars! If you have a pair, make sure you pack them (we'll even send you a reminder to do so.)
Search for the Gorge's nocturnal beasties.
Exclusive to Australian Nature Guides.
Join a local wildlife expert to encounter wildlife you might not otherwise see, including marsupial gliders, echidna, platypus, owls, bats, and frogs.
Using sight, sounds and smells, we'll hunt through the forest along easy, mostly flat trails to see what animal surprises the evening delivers.
It's a great way to see a side to Carnarvon Gorge that most visitors do not get to experience.
Note 1: All tours require a minimum of two participants to run. Should you be a solo traveller, and wish to book a single ticket, please be aware that the tour will be cancelled if minimum numbers are not met. In the event of such a cancellation, Australian Nature Guides will offer your choice of a refund or alternate date.
​
Note 2: It is important to understand that group noise influences the amount of wildlife encountered, as we rely heavily on our hearing to track nocturnal animals. We reserve the right to exclude any participant/s who are unable to remain quiet when directed by their guide. Parents should be particularly mindful of this when booking young children onto this tour
Available: April - October.
Duration: 1.5 hours.
Distance: Approximately 1 kilometre, over fairly easy terrain. May involve one creek crossing.
Price: $35 per person
Group size: Min 2 - Max 8 (Private Night Safari Tours for up to 14 people are possible. Please enquire.)
Note: Due to COVID-19 concerns we are unable to supply torches or binoculars. If you have your own, please bring them.
BYO: A small torch and weather appropriate clothing.
COVID Safe Measures
All day tours for 2021 will be private tours.

A private booking is defined as a single household, family or group travelling together. Our goal is to keep you safe, and this approach will ensure you won't have to mingle with anyone outside your family unit or travelling group.

Night Safari Tours are limited to eight guests to facilitate social distancing, which is easier to achieve at night when the tracks are almost empty.

Our tour movements within Carnarvon Gorge will abide by any restrictions imposed by Queensland Parks and Wildlife Service, including social distancing at major sites where visitor numbers at any one time are limited.

We will carry surface spray to sanitise public toilets prior to use.

We will carry hand sanitiser, but would prefer you bring your own.
​
COVID Safe Policy
You MUST be willing to abide by any social distancing instructions as directed by your tour guide and/or National Park Staff.

You CANNOT attend our tours if you are experiencing ANY flu-like symptoms consistent with COVID-19 which includes cough, fever, sore throat, fatigue and shortness of breath.

DO NOT attend our tours if you have recently returned from overseas, or have potentially been in contact with any COVID-19 cases.

Engaging in travel and tourism-based activities is not currently recommended for people who fall into one of the COVID-19 "at-risk" groups as recognised by the Queensland State Government.

Should you be forced to cancel your tour booking due to experiencing COVID-19 symptoms, Australian Nature Guides will offer a 100% refund.

We reserve the right to refuse service to customers who fail to comply with our COVID safe policy