Carnarvon Gorge's Tour Specialists
I first came to Carnarvon Gorge at the tender age of 11. Though I doubt I could have verbalised it then, something about the place spoke to me at a fundamental level. I recall being gobsmacked by the magnitude and age of the cliffs, being entranced by the magic of the creek's clear water running over smooth basalt cobbles, and being deeply affected by the cultural sites' silent testimony to ways of life drastically altered. Carnarvon Gorge lit my sense of curiosity on fire, and the flames have yet to go out.
​
I returned again the following year on another school camp, which cemented the relationship. Then again, multiple times, as a young adult. In my early thirties I leapt at the chance to work as a chef at (then) Oasis Lodge. It was during this period, in the late nineties, that I hatched a cunning plan to build a life in the landscape I was so drawn to.
Back then, Takarakka was Graeme Walsh's rock art research centre and the majority of visitors stayed at the National Park. However, the only guides were based at the Lodge and only took in-house guests. I knew there was a thirst in the visiting public to know more about the Gorge, particularly the cultural sites, and Australian Nature Guides was born to serve that thirst.
​
Observing nature and spending time outdoors has always been a passion of mine, so it wasn't a difficult choice to change career direction. The guiding business became operational in 1999 and commenced touring in 2000. I don't know how many times I've walked the tracks up the Gorge with guests. It must be in the thousands now. I don't know how many times I've shown people gliders soaring through the forest. It would be in the tens of thousands. I've never tired of either. The Gorge is such a special place and I feel privileged beyond words to have been able to spend so much time getting to know this landscape and to share my passion for this incredible ecological refuge and its cultural significance with like-minded souls as we wander along the tracks.
Simon and I met at my first Savannah Guides Field School at Adel's Grove in 2015. Simon struck me as a rather savvy naturalist, so I asked to join his "Twitchathon" team, the official bird watching competition. During the school, we made the most of every possible birding opportunity, ensuring we always participated in the same activities, and had a lot of fun along the way. In the end, our approach paid off, with our team taking out top honours, and the highly coveted regent honeyeater soft toy.
​
A few months later, I resigned from my guiding position in Winton, and moved home to Victoria where I picked up some short term contracts as a freelance outdoor educator. This didn't last long. Once Simon heard I was a relatively free agent (thanks, Vicki), he invited me to apply for his newly advertised position to run Australian Nature Guides while he embarked on post-grad study at the University of Georgia, USA. The opportunity to learn from someone like Simon, was one I could not ignore. Never mind the fact that I had never even visited Carnarvon Gorge, I would just have to work harder. So I submitted my application, and the rest is history.
​
I was officially employed in May 2016, and boy, have I learnt a lot since. It was a steep learning curve, but well worth the effort. Nowadays, I enjoy sharing my knowledge with the many visitors who join our tours each season, ensuring they leave Carnarvon Gorge with a greater understanding of, and appreciation for, this special landscape. Plus, being able to draw on knowledge of other Australian landscapes I have guided in, such as Kangaroo Island, Uluru-Kata Tjuta National Park, Winton, and Kakadu, helps to enrich my guests' experience further.
​
Ultimately, I love the fact that I'm leading a healthy and active life in the great outdoors, sharing stories, and meeting new and interesting people everyday.
​
​
Australian Nature Guides is a Savannah Guides Enterprise and both Michelle and Simon are accredited Savannah Guides. What does this mean? Well...
Savannah Guides is a non-profit network of professional tour guides and tourism operators with deep collective knowledge of the natural and human histories of northern Australia.

The organisation fosters ecologically sustainable, high quality interpretive tourism; Savannah Guides' members must demonstrate a commitment to conservation values, meet strict standards of operation and abide by professional codes of conduct to achieve accreditation.

The Savannah Guides are experts in the conservation of this region and are committed to passing on this knowledge to guests, along with the interpretation and effective management of the natural and cultural assets of northern Australia.
If there's anything we can do to help you plan your visit, let us know!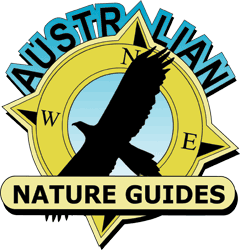 Australian Nature Guides Carnarvon
Australian Nature Guides' logo.
Simon, Michelle, and Maddie.
Simon and Michelle run Australian Nature Guides at Carnarvon Gorge
Michelle on track, Carnarvon Gorge
Michelle highlights the importance of fire in the development and maintenance of Carnarvon Gorge's forest ecosystems.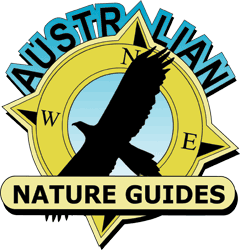 Australian Nature Guides Carnarvon
Australian Nature Guides' logo.
"It's not what you look at that matters; it's what you see"
8 Railway Parade, Injune. Qld 4454. Australia